Does your employer offer health insurance? In the past, was your family unable to get financial help for a health plan through Vermont Health Connect? Was this because your employer's plan was deemed "affordable" by federal standards?
If yes, families with offers of employer health coverage may have new opportunities to get financial help through Vermont Health Connect, even if before they were not eligible.
This year, a fix is in place so that more Vermonters who also have access to health insurance through their jobs could get less expensive coverage though the marketplace. Now, more Vermonters whose employer-sponsored plans are expensive can benefit from subsidies. The fix may make health insurance more affordable and within reach.
See if your family can get financial help through Vermont Health Connect. To determine whether you are offered coverage from an employer that is considered affordable, use this online tool.
Here is how it works: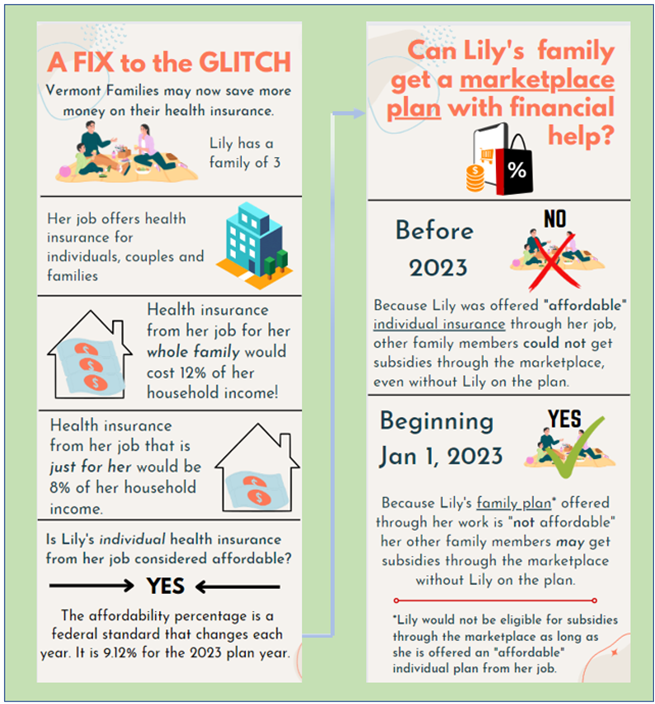 What is the "family glitch"?
The family glitch has been around since the beginning of the Affordable Health Care Act. Under the Affordable Care Act, having access to "affordable" health insurance means the employee and their family can't get financial help to buy a plan through the health insurance marketplace. Until now, Employer Sponsored Insurance (ESI) affordability was calculated using only the cost of the single plan. The 'glitch' is that employer couple or family plans cost more, sometimes a lot more, than just an individual plan. If the individual plan was affordable, couples and families could not take advantage of the subsidies available through Vermont Health Connect.
A fix to the family glitch will be in effect beginning with 2023 health plans. The fix will help eligible families to benefit from subsidies. It would make health insurance more affordable and within reach. Learn how to calculate if employer sponsored insurance is affordable with this online tool.
Already have employer coverage?
Find out if qualified health plan may be more affordable for you or your family. Individuals and families enrolled in employer-sponsored coverage can use this online tool to check and see whether coverage is considered affordable and explore enrolling through Vermont Health Connect. Don't drop your employer coverage before finding out whether you can get savings through Vermont Health Connect.
Never applied?
Try today. Create an account and tell us about your household. You will be screened to see if you are eligible for subsidies.
---
Questions? Call our Customer Support Center at 1-855-899-9600 or contact an in-person Assister near you.