Welcome to Vermont Health Connect
Vermont Health Connect is the State of Vermont's health insurance marketplace. VHC (Vermont Health Connect) is where eligible Vermonters can get health insurance with financial help.
There are two types of health insurance you can get through VHC. Which one you get depends on what you are eligible for. You may be able to get a qualified health plan or Medicaid for Children and Adults, including Dr. Dynasaur. 

NEW! Text Alerts -- Vermont Health Connect is now sending text messages to its customers. These messages will come from the number 88911. All messages start with "This is the STATE OF VT". Messages share important health insurance information. We will never ask for personal information. Please call us at 1-855-899-9600 if you have any questions. 
---
How do I sign up?
Open Enrollment for 2023 health and dental plans is over. It usually runs from November 1 to January 15 every year. It is the time you can sign up for qualified health plans and dental plans through VHC. Or you can change the Plan you have.
IMPORTANT! You can get financial help for a qualified health plan ONLY if you sign up through Vermont Health Connect.
Eligible Vermonters can sign up for Medicaid or Dr. Dynasaur at any time. These programs offer free, or low-cost, health coverage for eligible Vermonters.
Some life changes let you have a Special Enrollment Period which lets you sign up for coverage or change the plan you already have. This is the only time you can sign up for new coverage or change plans outside of Open Enrollment. To learn more, click here.
---
Financial help for Health Insurance
Do you want help to pay for your insurance? Health insurance costs change every year. Check to see if you can get financial help now, even if you couldn't before.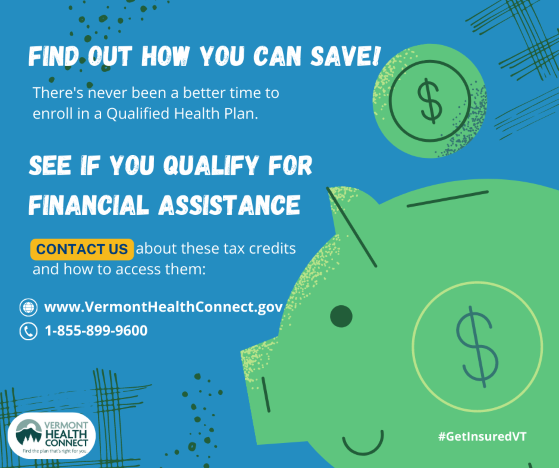 ---
How to Apply